The first Filipino ruler to embrace Christianity was the ruler of Cebu when Portuguese explorer Ferdinand Magellan and his crew first set foot on Cebu. Rajah Humabon or Sri Hamabar was baptized on 7 April 1521 along with his chief consort, Hara Humamay, and around 800 of his subjects. Humabon was christened Don Carlos in honor of Charles V, the King of Spain. Lady Humamay was christened Juana in honor of the mother of Charles V. In remembering the occasion and as baptismal gift, Magellan gave Queen Juana the image of the child Jesus (Santo Niño) through Antonio Pigafetta. To commemorate the baptism of the natives by Father Pedro Valderrama, Magellan erected a cross on the site where the
Magellan's Cross now stand at the Plaza Sugbu
beside the Basilica Minore del Santo Niño. The conversion of the natives to Christianity and Roman Catholicism is also depicted on a painting at the ceiling of the chapel or kiosk where the Magellan's Cross is kept.
A statue of Rajah Humabon at Plaza Hamabar in Cebu City, Philippines
Who Is Rajah Humabon
Sri Hamabar or Rajah Humabon was considered the wisest and bravest man in the
island of Cebu
. He made a blood compact with Magellan and according to the account of Antonio Pigafetta, he convinced Magellan to kill Datu Lapu-lapu of Mactan, his chief rival. We all know Magellan failed.
According to an account from the Aginid, shortly after Magellan died in the Battle of Mactan, Spaniards raped the women of Cebu and in retaliation, Rajah Humabon poisoned many of the Spaniards in a feast.
Pigafetta had a different account wherein he chronicled that the Europeans were massacred because Rajah Humabon feared that they were planning to take over the kingdom.
Plaza Hamabar: Tribute to Rajah Humabon
A monument erected as tribute to Rajah Humabon is located right in front of the Cebu Archdiocesan Museum (or Cathedral Museum) and near the Cebu Metropolitan Cathedral in a plaza aptly named Plaza Hamabar. In the plaza is an obelisk and a statue of Rajah Humabon. Brief information about Rajah Humabon can be found at the base of the obelisk. One will notice that Rajah Humabon is tattooed all over his bodies, a common practice among pre-Hispanic Visayan natives.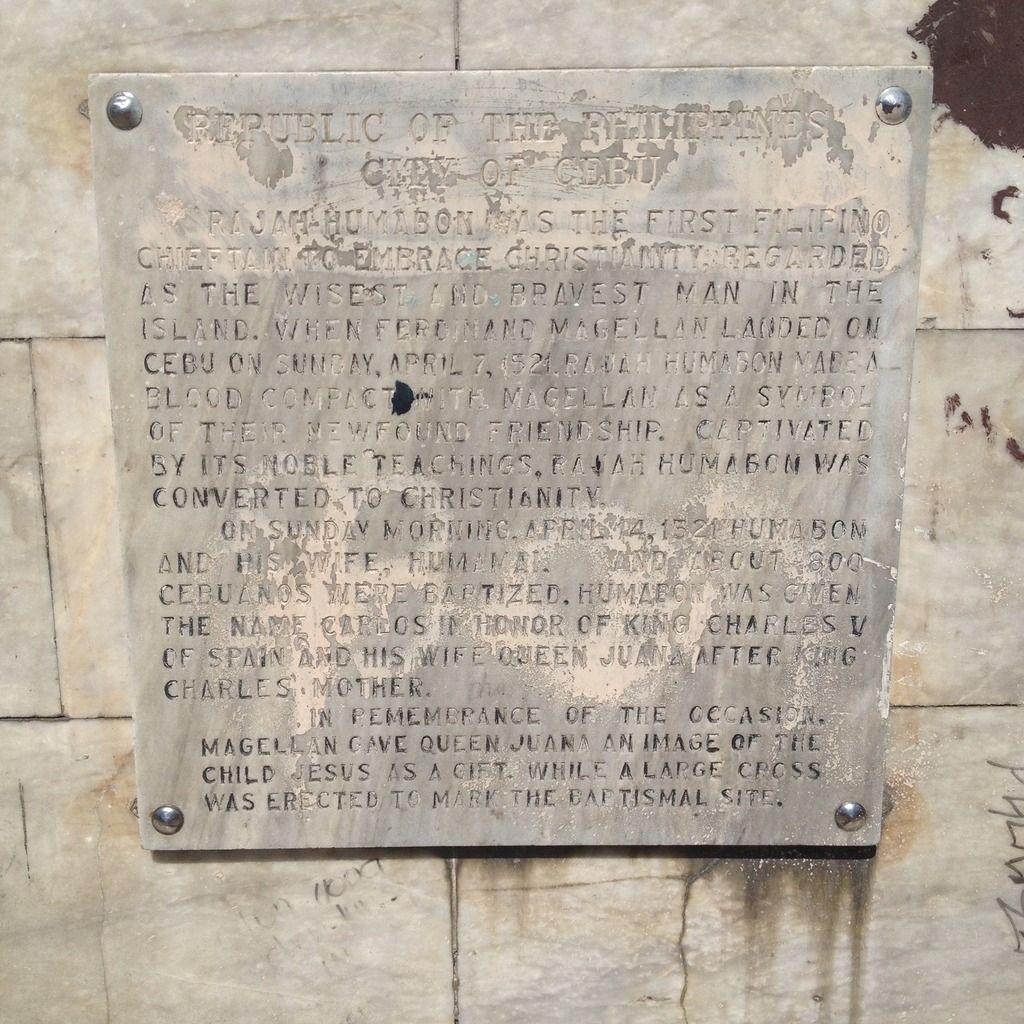 Base of the obelisk at Plaza Hamabar in Cebu City, Philippines