While a Korean-sounding name,
Choobi Choobi Restaurant
serves more Filipino dishes on its menu. It's house specialties are grilled meat and seafood dishes. According to their website
Choobi choobi
is derived from a Fookien word that means "to enjoy". It is from that foreign word that the restaurant got it's tagline of "lingaw-lingaw kaon". One Thursday night on February 2016, we dropped by the
Choobi Choobi
branch at the SM Seaside City to have dinner.
Choobi Choobi Restaurant in Cebu, Philippines
What We Ordered For Dinner at Choobi Choobi
For appetizers, we ordered shrimp tempura and baked scallops. The menu indicated Patrick Star's Baked Scallops as one of the house specialties. In my opinion, I think it tasted more of burnt cheese and butter. One order cost PhP 165 with about ten (10) pieces. My top places for best scallops in Cebu are still the ones from House of Lechon and STK ta Bai!
Patrick Star's Baked Scallops at Choobi Choobi Restaurant in Cebu, Philippines
The tempura though can rival some of the best tempura I have come across in Cebu. And it's a good bargain at PhP 175 for about six (6) pieces.
Shrimp tempura at Choobi Choobi Restaurant in Cebu, Philippines
For the main course, we ordered medium Stuffed Grilled Squid priced at PhP 195. I got curious since the menu read "Try and see what's inside". So what was inside? Steamed rice. Blah! So much with the disappointment of seeing just steamed rice as stuffing, the grilled squid was pretty good. Most probably they used some teriyaki sauce or sweet Worcestershire sauce on the basting. We usually abhor sesame seeds on our food but we didn't even notice until we reviewed the photos we took that this one had sesame seeds on it.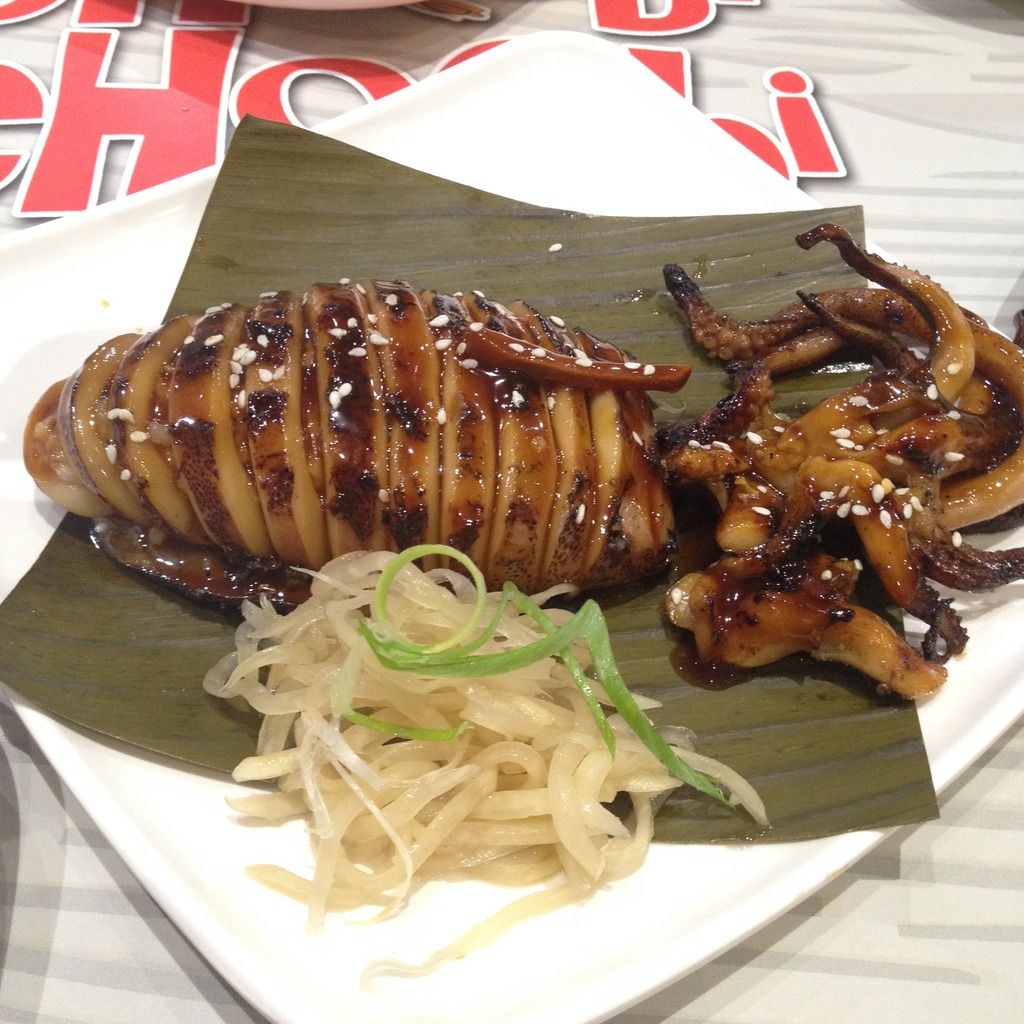 Stuffed Grilled Squid at Choobi Choobi Restaurant in Cebu, Philippines
The other food item we ordered was
lechon kawali
. This was a disappointment. The crisp on the rind was right but the meat was hard and not juicy at all. They probably deep fried the meat straight from the freezer and did not boil the pork meat in water. The sweet blend soy sauce that came with it somehow made things better.
Lechon Kawali at Choobi Choobi Restaurant in Cebu, Philippines
I usually don't comment about the drinks but the house blend iced tea pitcher at
Choobi Choobi
is worth mentioning because at 2 liters and only PhP 135, it's such a good bargain. And this is good iced tea too.
Other Dishes Worth Trying
at Choobi Choobi
The Choobi Choobi menu identifies Stan's Fried Black Pepper Shrimp and Lola Pepang's Fried Manok as the chef's specialties. I haven't tried both dishes and it's on my list the next time I visit the restaurant. Another item on the menu that I tried and liked was the Shrimp in a Bag. It comes in different flavors or sauces but my favorites are the Whole Choobang, Spicy Gata, and Butter Garlic. Other flavors include Sautéed in Garlic, Choobi Sauce, and Salted Egg Shrimp.
Choobi Choobi Branches in Cebu, Philippines
There are currently nine (9) branches of Choobi Choobi Restaurant in Cebu, Philippines:
Sm Seaside City
SM City Cebu
Robinsons Galleria Cebu
Robinsons Cybergate Cebu
Parkmall in Mandaue City (Telephone Number 032 422 8686)
Mabolo (Telephone Number 032 414 3762)
Capitol Site (Telephone Number 032 412 2341)
Mactan Newtown in Lapulapu City
Pueblo Verde in Lapulapu City
The delivery number for Choobi Choobi is (032) 405 6010.
To follow them on social media and online, visit the following links:
Instagram: @choobichoobi