A few months after it opened at the
City Times Square in Mandaue City

, I finally had a chance to dine at Buffet 101. The chance came when my cousin and his family from Texas, U.S.A. were visiting Cebu on April 2016.
Buffet 101 in Mandaue City

, Cebu, Philippines
As the central Philippine city of Cebu continues to develop, a number of restaurants offering buffet or eat all you can meals have recently opened around Metro Cebu. One of these recently opened restaurants is Buffet 101 which opened in December 2015.
Related Reading:
Eat All You Can Buffet Resturants in Cebu
So far, Buffet 101 is the largest buffet restaurant I have been to in Cebu. It has a very cozy feel with the ambiance of a five star hotel. And for those who are very particular about restrooms, you will be thrilled to know that the restrooms at Buffet 101 are almost spotless.

The spacious Buffet 101 restaurant in Mandaue City,

Cebu

,

Philippines
I was spoiled for choices at
Buffet 101
. There were just too many dishes to choose from. There was
Japanese
cuisine,
Chinese
cuisine,
Korean
cuisine,
seafood
,
dessert
,
dimsum
dishes, vegetables, and the list goes on and on. I was only able to taste probably a tenth or less of what was served. So let me just share what I had.
With relatives at Buffet 101
My Meal
My first plate for dinner saw me load up on seafood: stuffed crab shell, shrimp toast, clam stew, and Pacific rim fish fillet. The fish fillet was a pleasant surprise, steamed cream dory with egg blended into the flavor.
My first plate at Buffet 101 in Mandaue City, Cebu, Philippines
For my second serving, I helped myself to a bowl of English seafood chowder, a small portion of roasted chicken, and some honey roasted pork loin. The soup was delicious. There was nothing special with the roasted chicken and the pork loin was a bit hard.
English seafood chowder at Buffet 101 in Mandaue City, Cebu, Philippines
I also nibbled on some lato, a type of seaweed commonly eaten in the Philippines. I loved that they had some ginamos to go along with this instead of just the regular vinegar dressing.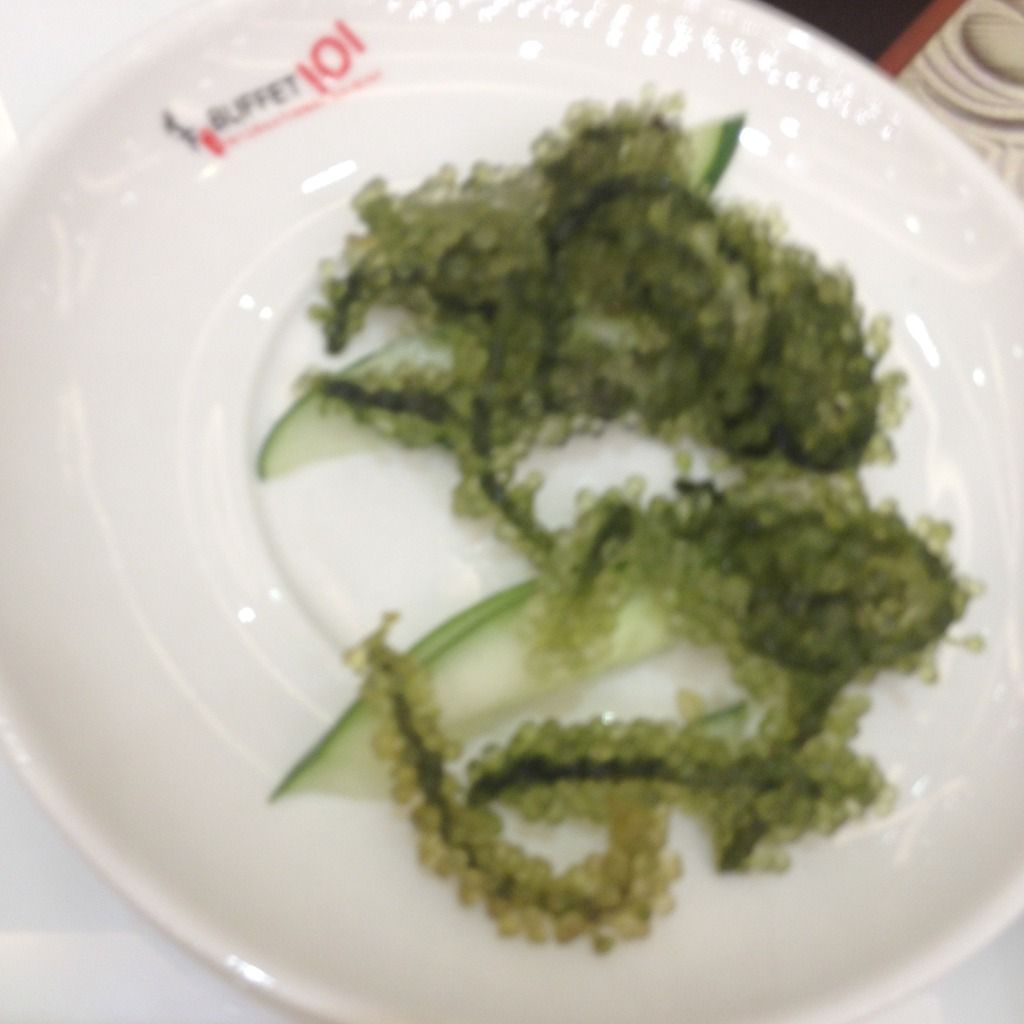 Lato at Buffet 101 in Mandaue City, Cebu, Philippines


I took a third serving and helped myself with kropek, siomai, spicy crab, and shrimp soy sauce. The kropek was okay, so are the crabs and shrimps. I have however tasted better versions of the siomai. There were other dimsum dishes I am looking forward to try in my next visit.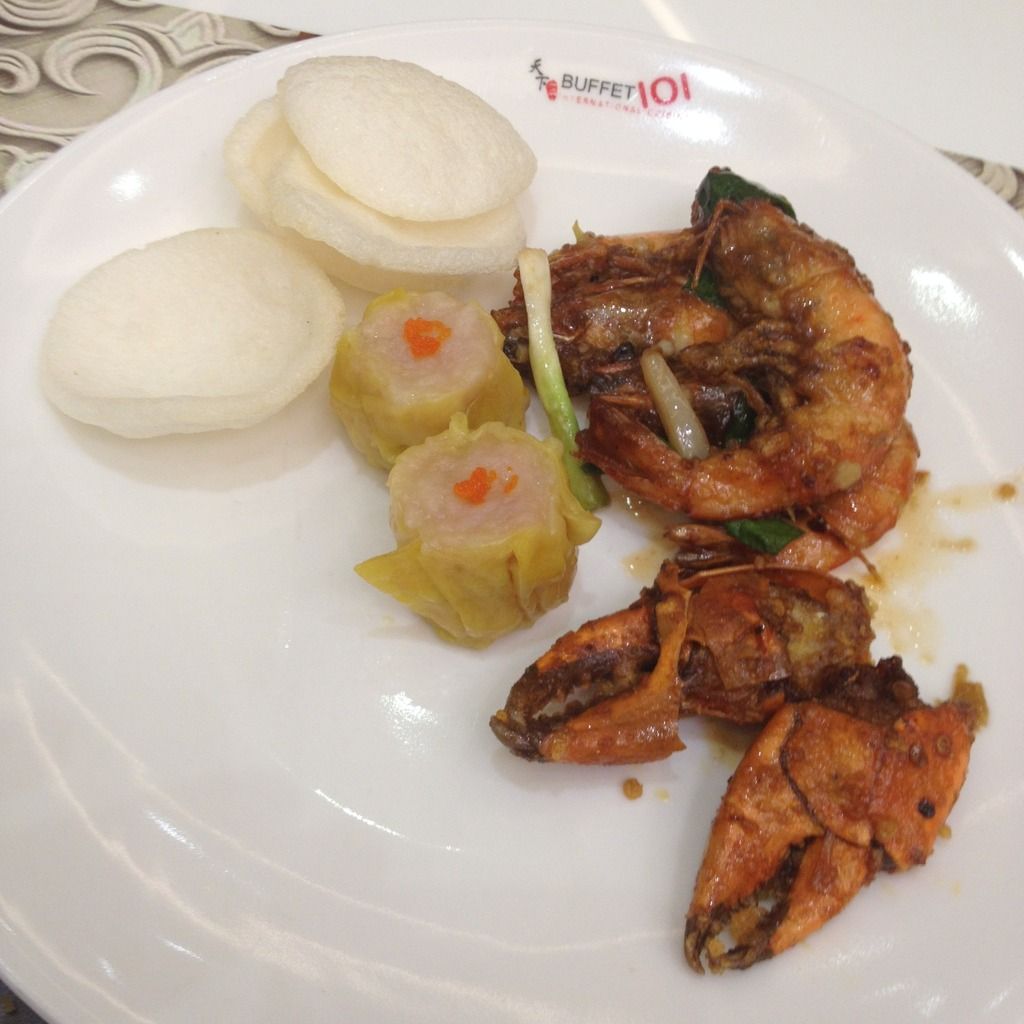 My third plate at Buffet 101 in Mandaue City, Cebu, Philippines
I couldn't have more as prior to the dinner at Buffet 101, we just had ice cream and shake at a café in Robinsons Galleria Cebu. With the humongous selection of dishes at Buffet 101, it is quite certain that a few dishes will at least tickle your fancy.
My Dessert Plate
For dessert, I had sapin-sapin, maja blanca, kutsinta, churros, and macaroons. The churros which I took with some dulce de leche sauce was a star, I was only able to take the last three (3) pieces. All the other desserts I tried were okay.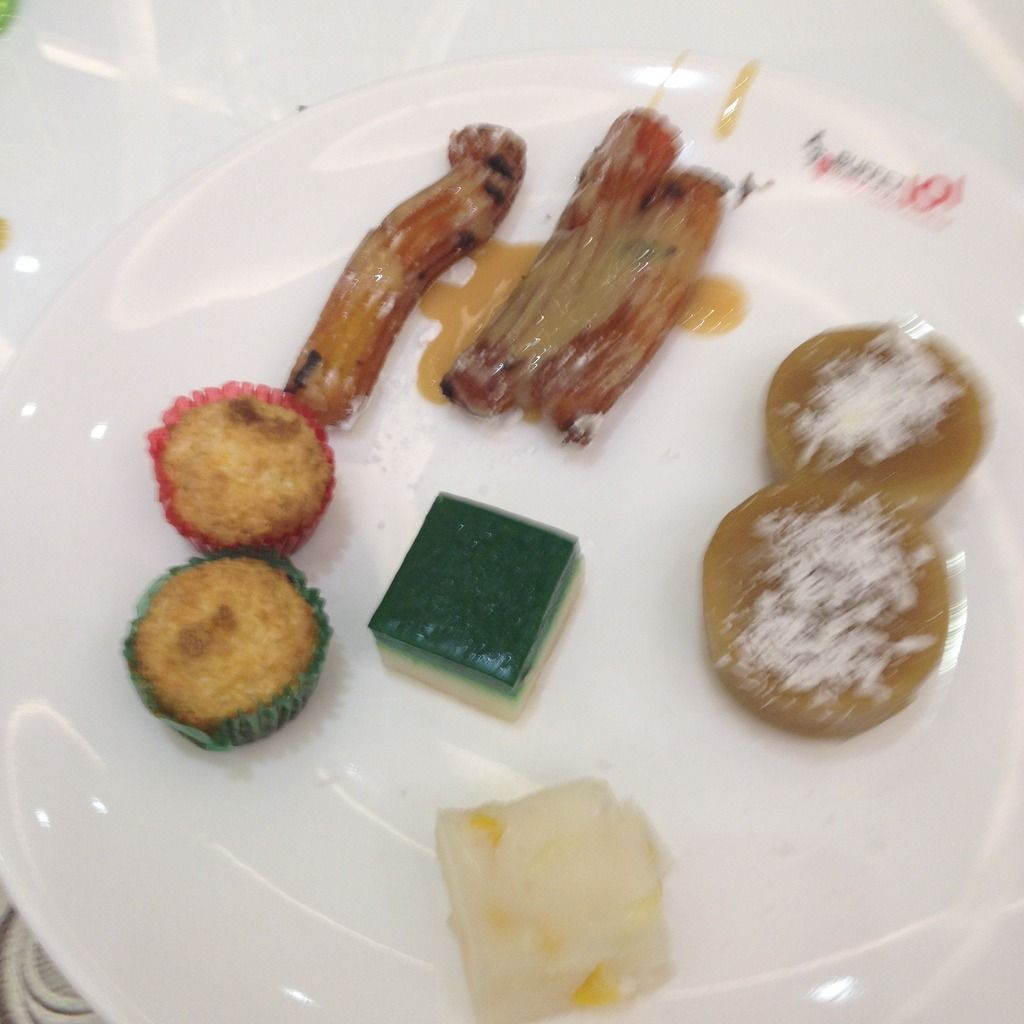 My dessert plate at Buffet 101 in Mandaue City, Cebu, Philippines
Cost of Buffet 101
Our weeknight dinner at
Buffet 101
cost PhP 799 each plus value-added tax (VAT). This is the same price for lunch and dinner on weekends and holidays. Lunch on weekdays is at PhP 599 plus VAT. Children below 3.5 feet are free of charge and leftover charge is PhP 999.
More About Buffet 101 in Mandaue City, Cebu, Philippines
Street Address: City Times Square, Mantawi Avenue, Tipolo, Mandaue City, Cebu, Philippines
Telephone Number: (+63 32) 517 2222
Business Hours:
Open daily for lunch from 11 a.m. to 2 p.m.
Open daily for dinner from 5:30 p.m. to 11 p.m.