Some people are early birds and wish to have their breakfast or morning meal early. Some are late risers and prefer to have their first meal much later in the day. Some want to combine meals and just have brunch. Yet some just can't have enough of breakfast food. Birdseed Breakfast Club + Cafe caters to just about anyone of the aforementioned personality profiles with differing meal preferences in Cebu City, Philippines. An all-day breakfast club run by Chef Alyssa Lao, Birdseed traces it's name origins to a slang word used to mean breakfast.
While the popular quote "the early bird catches the worm" may be a good reference to early risers and the worm as the bird's breakfast, most if not all birds do eat plant seeds as a common meal making the avian kind one of the biggest agents of cross pollination. Birdseed therefore captures more of the all-day breakfast vibe at this place bridging uptown and midtown Cebu City.

Birdseed Breakfast Club is located at Unit F 19 at Axis Entertainment Avenue, Vibo Place along N. Escario Street in barangay Camputhaw, Cebu City, Philippines. It opened last January 16, 2016 and now opens from 7:30 a.m. to 10:30 p.m. daily. Below is their contact information:
Telephone Number: (+63 32) 254 9463
The Menu at Birdseed Breakfast Club + Cafe in Cebu City, Philippines
Birdseed Breakfast Club + Cafe serves American food, Asian fusion dishes, breakfast items, sandwiches, coffee, and soul food. The menu is actually divided into the following eight (8) sections:
Soups. Dishes with some broth in it.
Salads. For those who want it light, organic, or vegetarian.
Pancakes, Waffles, and Toasts. Common breakfast items from egg-based dough.
Sandwiches. Breads with fillings in between.
Go Green. Anything plant-based.
Mains. Heavier meals and entrees.
Drinks. Beverage section.
Coffee Bar. For coffee lovers.
When we dined in for brunch one lazy day in May 2016, we ordered the triple-stack buttermilk pancakes with maple butter and a breakfast skillet as suggested by the waitstaff.
Triple-stack Buttermilk Pancake with Maple Butter at Birdseed Breakfast Club + Cafe in Cebu City, Philippines
A stack of three fluffy pancakes with a generous topping of slowly melting butter. As a side to it, we had a choice of spiced maple syrup, strawberry, or blueberry syrup. We took the spiced maple syrup. The pancakes are not too sweet. Just pour in the maple syrup to your liking to make it sweeter.
Breakfast Skillet at Birdseed Breakfast Club + Cafe in Cebu City, Philippines
Priced at PhP 390.00 per serving, the breakfast skillet can feed 2 to 3 persons. It has two sunny side up eggs, French toast, herbed hash browns, three (3) breakfast sausages, wilted spinach, roasted tomatoes, and a few strips of bacon. It is a filling meal for two (2) people. Not one to have if you want a light breakfast meal.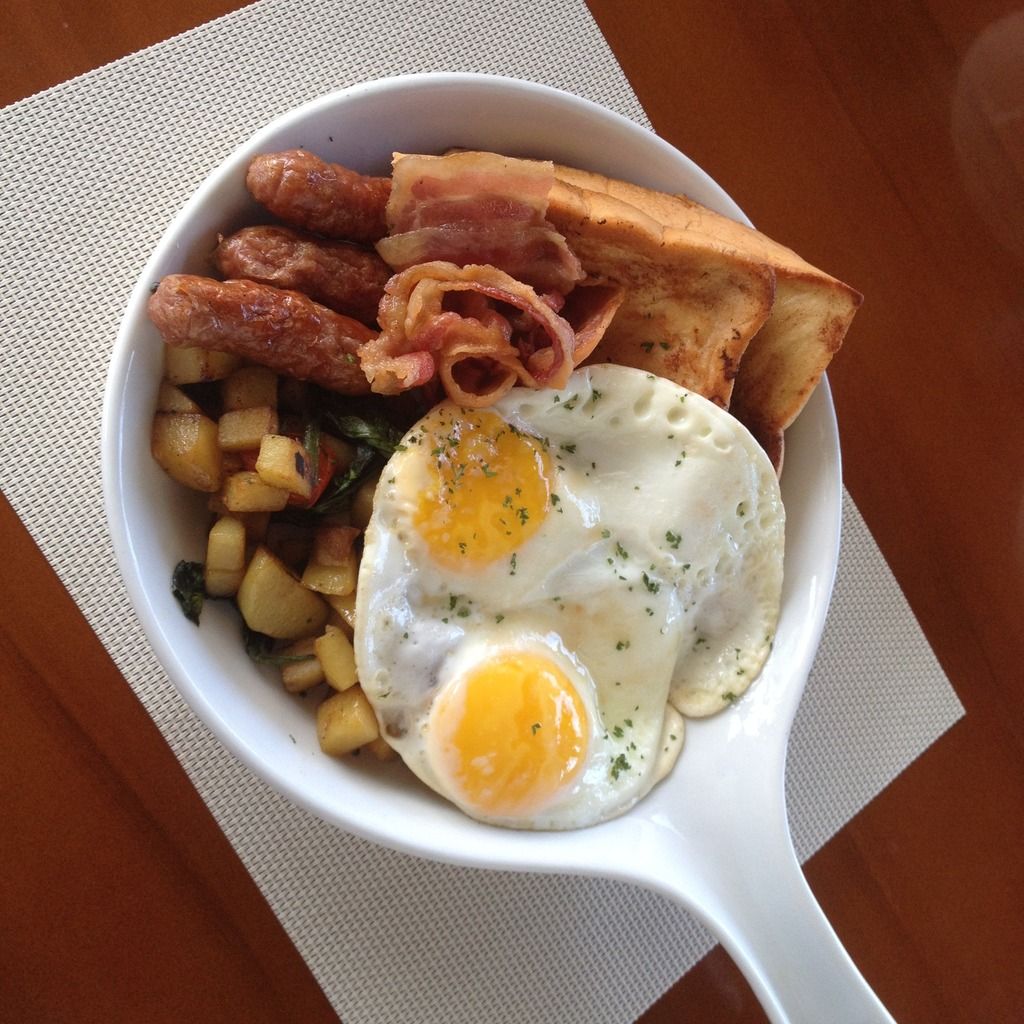 Breakfast skillet at Birdseed Breakfast Club + Cafe in Cebu City, Philippines
Other Interesting Items on the Menu at Birdseed Breakfast Club + Cafe in Cebu City, Philippines
Vegans and vegetarians may order from the Go Green section which lists vegetarian pita pizza (PhP 240.00) and double double vegetarian burger (PhP 250.00) as choices. Silog meals are also available for those who wish to enjoy a Filipino breakfast with choices of Spanish chorizo, bacon, salmon, beef tapa (beef jerky), and beef brisket and kimchi as main entrees.