Hotels in the Philippines usually are constructed where there's a lot going on. The trend in Cebu, Philippines nowadays is to build where there is nothing happening yet but where there is potential for business development. While the North Reclamation Area in Mandaue City, Cebu, Philippines was built in the 1960's, it has only recently seen a construction boom. Most notable recent constructions are two (2) major hospitals, a university, an Old West-themed diner, a shopping center, and an urban resort. Other establishments of note are a few strip malls, a membership-only shopping center, a hypermarket, some entertainment joints, and a number of offices and warehouses.
BIG Hotel in Mandaue City, Cebu, Philippines
One hotel also started operating in the area starting the middle of 2015.
BIG Hotel
is a business and/ or industrial hotel in Mandaue City, Cebu, Philippines under the umbrella of the Travelbee Budget Inns and Hotels group. To book a room, you may use the Agoda search box provided below.
Here are Eight (8) Reasons Why I Like To Stay at the BIG Hotel in Mandaue City, Cebu, Philippines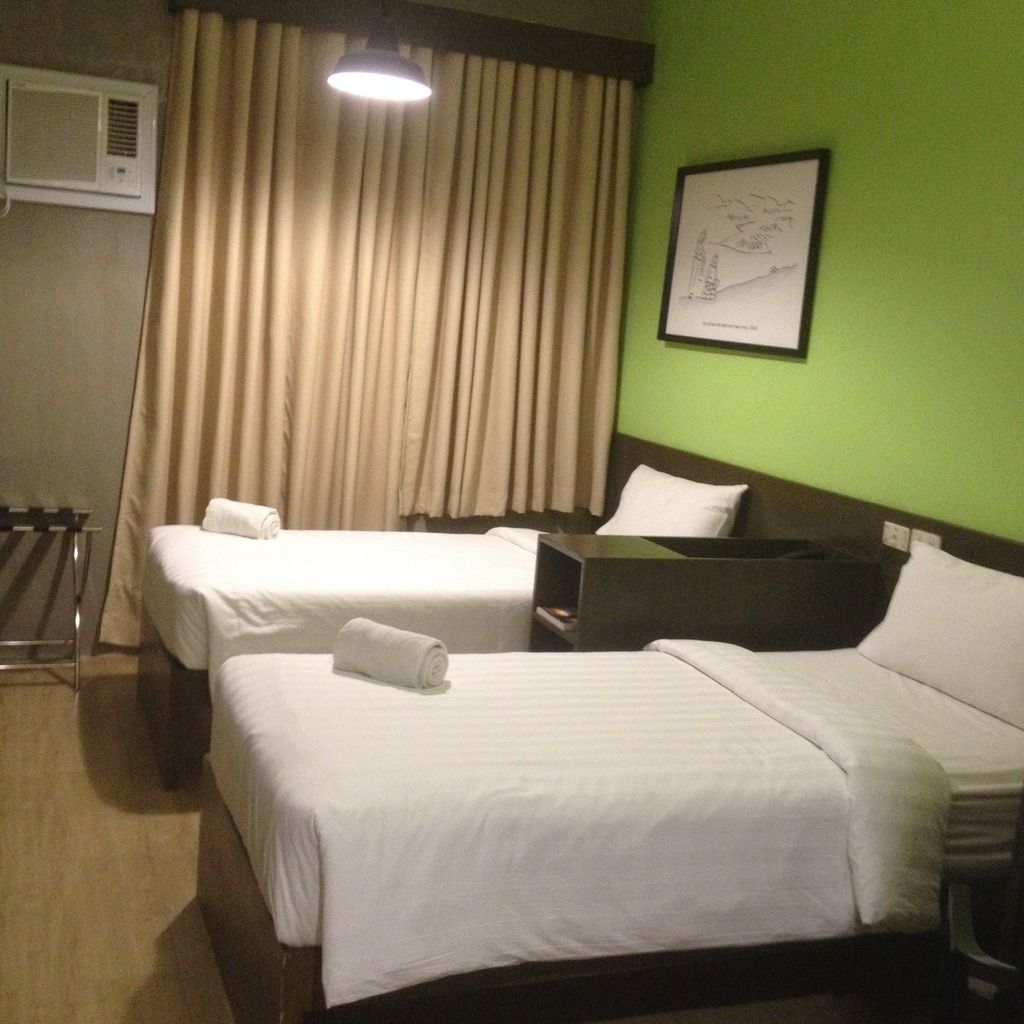 Standard room at BIG Hotel in Mandaue City, Cebu, Philippines
1. BIG Hotel is Surrounded by a Variety of Dining Options
When visiting Cebu for it's culinary wealth, a good place to start are the restaurants at Parkmall and City Times Square. Popular restaurant choices at Parkmall are Shabu-way Japanese Restaurant and Hotpot Cuisine, Kogi-Q Grill-All-You-Can Restaurant, Choobi-choobi, Da Vinci's Pizza, Mang Inasal, Mooon Cafe, Hukad, Cebu's Original Lechon Belly, and Kublai Khan Mongolian Barbecue. Coffee and pastry options at Parkmall are Bo's Coffee, Cream N' Bake, Crema Homegrown Recipes, Red Ribbon, Dolce Casa, Chewy Junior, Goldilocks, Postrio Cafe, and Dessert Factory. Fast food and food stall options are Kentucky Fried Chicken, Jollibee, Dimsum Break, Mister Donut, Chowking, Orange Brutus, Dunkin Donuts, Potato Corner, Fruitas and Friends Fries, Pizza Pedricos, Master Siomai, Quickly, Mr. Pizzanada, Thirsty, Virginia Hotdog, Waffle Time, Zagu, Buko Loco, Apollo, Mrs. V Pinoy Deli, Gotcha Food Express, Chef Alex Patisserie, D'Lindth Pasalubong Center, Lugaw ni Bossing, Frostbites, Famous Belgian Waffles, Nacho Grande Food House, Penny's Mandaue Delicacies, Mix N' Stir Fruit Station, Siomai Pao, Brownie Ala Mode by SLT, Sachi Ramen and Okonomiyaki, TJ's Peanuts and Other Delicacies, Xzee Food Corner, and Cobo Awesome Possibiliteas. Other restaurants in the area are Japengo, Pizza Hut, Hans Rice Burger, Tandoori Persian Kebab, Dong Juan, Veranda, The Manila Foodshoppe, and Shawarma Gourmet.
There are three (3) eat all you can buffet restaurants in City Time Square, namely Tokyo Table, Buffet 101, and KingOne Rotary Hotpot. There are also lots of other restaurants at
City Time Square
such as Cafe de Folle, Cafe Namoo, Cellar Door, Chattime, Chowtime, The Classroom Restobar, David's Tea House, Gumbology, More Share Shabu-shabu Restaurant, Ice Giants Desserts and Snacks, Infinitea Milktea, K-Chicken Hauz, Sasam's Coffee, and Taj Indian Restaurant.
Both City Times Square and Parkmall are a very short walking distance from
BIG Hotel in Mandaue City
, Cebu, Philippines.
There are also restaurants that are not too far away such as Sushi Boy and Cafe Racer.
2. There are Lot's of Entertainment Choices Near BIG Hotel in Mandaue City, Cebu, Philippines
The area around BIG Hotel is fast becoming an entertainment hub for a variety of activities. For karaoke lovers, there's Hi-Fi Family KTV at City Times Square, Also at City Times Square is Exit Now, an escape theme game. Then there's Liv Super Club also at City Times Square for those who wish to dance to techno music.
Across City Times Square is Parkmall also with a variety of entertainment options such as segway rentals, video game arcade, and occasional live band music. St. James Amusement Park is also not far away and so is Amnezia Superclub.
3. It is Situated in a Relatively Quiet Location
While Mandaue City has a notorious reputation for it's terrible traffic situation, BIG Hotel is situated at an area where traffic jams are rare so that is a plus. While it is also very near malls, BIG Hotel's immediate environment turns quiet after mall hours.
4. It is Midway Between Cebu City and the Mactan-Cebu International Airport or Mactan's Beaches
Visitors who do not want to stay too far away from the airport and wishes to stay at a quieter place than Cebu City may find BIG Hotel a good match. It is right in between the way from Cebu City to Mactan Island where the airport and famed Cebu beaches are located.
5. It is Right Next To Two (2) Malls
BIG Hotel is within a very short walking distance to Parkmall and City Times Square, two (2) major malls in Mandaue City's north reclamation area. It is also a short jeepney ride away from SM City Cebu or a 15-minute taxicab ride to Ayala Center Cebu.
6. It Suits My Minimalist Preferences
There's nothing fancy about BIG Hotel. No elaborate wall paints, no expensive abstract decors, no shiny floor tiles. Just the way I like it. I am not easily impressed with elegant interior design and I appreciate a minimalist theme and that's the way it is at BIG Hotel.
Front Desk at BIG Hotel in Mandaue City, Cebu, Philippines
7. It's Not Too Pricey
I was surprised to find out about the room rates at BIG Hotel. I was expecting I would pay more for a night of stay there. It turns out their published rates are a good deal.
Standard Room PhP 1,600 per night, twin sharing, with complimentary buffet breakfast
Family Room PhP 2,280 per night, triple sharing, with complimentary buffet breakfast
De Luxe Room PhP 2,480 per night, twin sharing, with complimentary buffet breakfast
Executive Room PhP 2,160 per night, twin sharing, with complimentary buffet breakfast
Penthouse Loft PhP 2,880 per night, twin sharing, with complimentary buffet breakfast
Suite PhP 3,280 PhP 3,280 per night, twin sharing, with complimentary buffet breakfast


8. It's Very Close to Two (2) Major Hospitals
BIG Hotel's proximity to two (2) major hospitals also lessens worries about any medical emergency that might happen. Chong Hua Hospital's new location and University of Cebu Medical Center or UCMed are both a stone's throw away from BIG Hotel.


Contact Information for BIG Hotel in Mandaue City, Cebu, Philippines
Street Address: Mantawe Avenue, North Reclamation Area, Tipolo, Mandaue City, Cebu, Philippines
Telephone Numbers:
(+63 32) 345 1316
(+63 32) 344 1316
(+63 32) 421 1316
Mobile Number: +63 925 858 1316
E-mail address: reservations@bighotel.ph